New class – fun feathers! I've worked all day on the class preparation and I think I've got a pretty good class set up. It premiers on Sunday at Bear's Paw.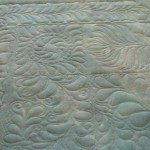 I'll have to admit it was a bit hard to get all the typing and drawing of feathers completed since one of the kittens, Jack, has discovered that the computer screen is a fascinating thing to play with. All sorts of things move around on it! I'll have to admit that perhaps the computer is a bit better place to for a kitty to hang around than his choice of entertainment last night!
At least the parts weren't moving! And as you can see, he soon tired of that activity and moved to other places. If you look closely, you can see him trying to entice a cohort in crime to join him!