Got an art opening coming up in June and I need one more piece for the show – so I got started on this one that has been together in my head for quite a while.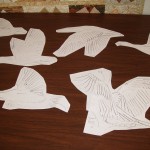 First the grunt work – drawing and trips to Staples to blow them all up to the same size.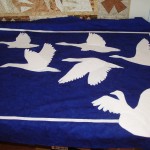 Then the bones of the quilt. the geese are felt, some are two or three layers thick. I'm hoping for some layered dimension when finished but not sure I'll get the results in the end.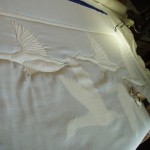 Its on the machine now, got a layer of batiste on top – and quilting has begun. Two threads in the needle, both sulky, one a silver and the other one is a sort of white shimmery thread, not quite metallic.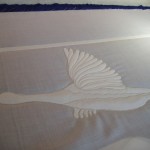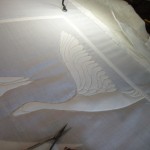 On Friday night, I ran out of the silver thread shortly after these two were stitched. Can't find this in town on Saturday so it requires a trip to JoAnn's, a 30 minute drive.  It'll have to wait til Monday so meanwhile, I did this.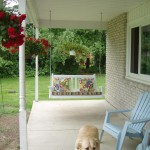 Cushions and pillow for the porch swing! There's even cording on the seat cushion! Back to my roots a bit for this job but OH, what a great porch swing!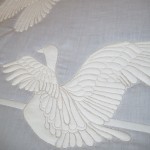 Monday came, went to JoAnn's,  got thread and spent lots of money outfitting my daughter for her internship on the way there and back. So technically,that spool of thread cost a lot of money! But the last goose is feathered!
Now its time to fill in the background – more to come!