It has come to my attention that I have been sorely remiss in keeping up with this blog. Seems to be that I haven't posted anything since June of last year! Well, its not like I've been slacking off or anything… and I do tend to upload pictures to facebook occasionally. Let me show you a bit of what I've been up to for the last 8 months… in no particular order…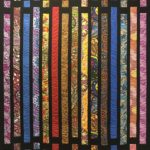 Continuity! A favorite pattern and kit at the Blue Hen Quilt Shop. Because let us not forget I do own the Blue Hen Quilt Shop in Newark Delaware and must keep it creating too! This quilt is made with lots of our Australian fabrics – stunning!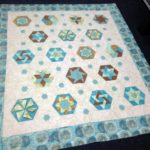 Hexology – a Block of the Month on-going at the Blue Hen. As soon as we are through it, this pattern will be available for purchase too. We are making hexies with 60-degree triangles – nine different techniques! Lots of fun!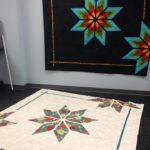 Modern Star. This uses my Creative Grids 45-degree Diamond ruler. MAQ is offering this as a 2-day workshop at the July, 2018 retreat. Want to come play?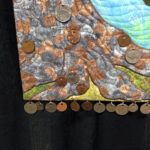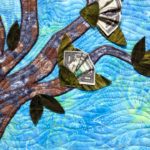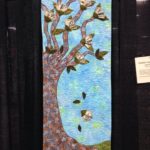 My Money Tree. I found this hanging in a Mancuso Show! Made it a year or so ago for a challenge with the Mason-Dixon Quilt Professional Network. The challenge title was "Let It Grow." I have to admit it was a little intimidating drilling through the coins but I like the way it turned out!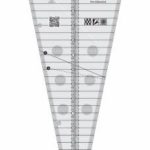 My new 22.5 degree Triangle Ruler from Creative Grids! Look what it can do – still working on more options too!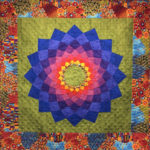 Dahlia Delight! When is a Dahlia not a Dahlia? When it is dresdens!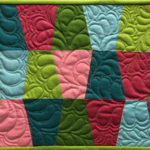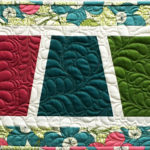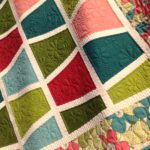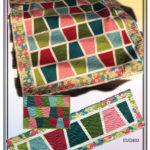 Tumblers – Sassy Tumblers at that!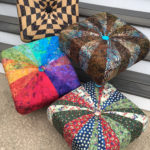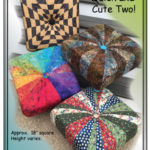 Squffets – Quick and Cute Two! Yep – that's right… Square tuffets!
 And Tumbler Love – interlocking Tumblers for your table!
In addition to all this, the Blue Hen Quilt Shop ran a very successful Quilts Around the Bay Shop Hop in March where we proudly displayed the Chesapeake Bay Blues Quilt designed from blocks from all the participating shops in the Hop.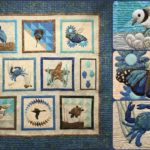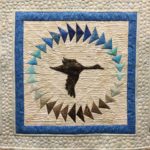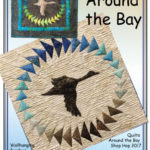 Our block was the Geese Around The Bay. Both the single block as a wall hanging pattern and/or kitted or the entire quilt kit complete with patterns are available through the Blue Hen Quilt Shop. 302-533-5215. If you are in the area, it is definitely worth a trip into the shop to see this beauty!
Ok – off to make a few more quilts!