Had a great time at our first Diamond Dimensions Trunk Show hosted by Hoppin' Bobbin. Many thanks to Kelly and all the ladies there! If you didn't make the opening, you missed a lot of great food! Alas its all gone now but nots to worry, the quilts are still there! Hope you get over there to see them. Here are the last two patterns to compliment the collection – hot off the presses! Literally!
Dining Diamonds – you saw this one earlier but now the pattern is available! Click on the link or pick one up at Hoppin' Bobbin when you go.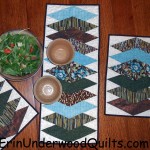 But the Diamond Dimensions Ruler does more than just diamonds. It miters! And it makes the whole process of mitering sooooo easy! Border Mania is a testament to that fact!