So I frequently don't go into my sewing room on the weekends because if I want to work on something new, I have to move the current "work" I have going. Usually it is a goal directed project soon to be a pattern or artistic endeavor for my mini-group.
But this evening I have come up with a plan to sooth my need to sew and yet not have it always have to be about the next possible class, pattern or some other goal directed quilt.  Now I suppose we all have one of these…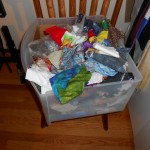 What is it, you ask?  Why, it a box of scraps! Scraps that are important, have been important or will be important again some day! Its an IMPORTANT box! Everything in this box can be used some how, some way… So it has been diligently saved, pondered upon, organized occasionally and lovingly stored in plain site so as not to be forgotten.
But it is getting in the way. This studio is small enough and storage is at a premium. So the thought  that keeps popping into my head is to start using this stuff or get rid of it. And for Pete's Sake, quit saving all those little bits and pieces! None of these thoughts have been acted upon but it could happen if I don't start doing something about my little hoarding problem.
Just to prove my point – this cardboard box shoved into the corner of the big plastic box is 4″ x 6″ and about 6″ deep and filled with trim-able half-square triangles rescued from all those diagonal seams used to sew strips together! First came the triangles that I used as leaders and enders ala Bonnie K. Hunter style. Then, there was the plan to trim them down, of which I have done to some but they are in another box… you didn't think this was my only box, did you? 😉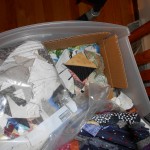 So my plan to sooth my addiction to the sewing machine is to complete a project out of the box every month (or so… I know I will slip up a bit). This will provide a lot of weekend sewing for me with no particular goal in mind. There are a lot of opportunities in that box. Some things are left over from other things or things that will never get completed with their original intentions or just pieces here and there that didn't fit any category in my stash storage system so it became a "scrap". So there is creativity galore just waiting to be discovered in that box of miscellaneous fabric – just waiting for me to be creative!
The first thing I think I'm going to play around with are the left-overs from a very poorly written pattern- not mine, of course- that never got completed past the center section. That particular quilt is now a table cloth for the coffee table to keep my hubby's shoes from scratching the wood or to be more precise, to hide all the scuff marks he's already put there.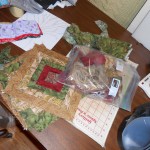 Because there were a lot of pieces in that pattern, there was a lot of stuff pre-cut in my excitement to make the quilt. There's a ton of 1-1/2″ strips, a few blocks, and the best news of all, there is even some of the fabric from this project still languishing in my stash! So I have a lot to work with here – with no particular goal in mind. I may keep it. It may go to charity. The possibilities are wide open right now… I'll keep ya posted.
Maybe you might want to do the same thing – Use it or loose it! Just saying…