In keeping with the innovative construction technique of my Phatkat patterns, I'm working up some new fan blocks. Here's a bunch of red-hot cats – they'll get a bit of applique in the border shortly.
This cat uses a rather clever idea if I do say so myself. The "humps" on the cat's back are inserted,3-d, and would look great embellished with buttons or beads to tack them down.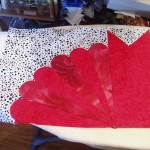 And now its time to drop the cat theme – stay tuned for more!