I have very little room to maneuver in my studio. If I want to quilt on the long-arm,  I have to pull it away from the wall and squish everything else in the room. So when its time to quilt, I tend to gang things up. In the queue this turn, are two T-shirt quilts, 7 placemats, one full size quilt, a small wall hanging and a spiderweb.
I thought the placemats were coming along nicely. Love the texture on the black set.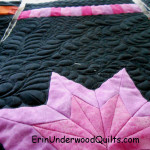 Try to ignore the threads and junk all over the black – its Kona cotton and black is a big, big lint magnet!
Same placemat with a light background. Got to open a luscious new spool of yellow thread for this one. Daisies seemed the perfect background for this light and lint-free version.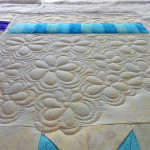 I easily filled up the backing fabric that all these placemats were set on. So I took it all off the long-arm and loaded another backing fabric and the first T-shirt quilt. After finishing that one, I am contemplating what to put on the bottom half of the backing and take a moment to trim up the placemats. I'm thinking these have turned out really well …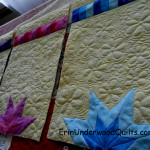 until I took a closer look…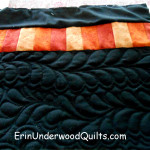 Totally missed a big section to quilt – and yes, its trimmed – auggghhh! So I guess I'll have to do this on the regular ol' sewing machine – sometime, eventually… its not like I don't have three more… I'll get to it … soon…
After all, I've still got another t-shirt quilt, regular quilt, small wall hanging and that spiderweb thingy…. And then there's all that binding… yep, I'll get to it soon…