It has been a whirlwind of a year. You may remember me mentioning my mother-in-law moving in several months back. After all the rearranging to get everyone to fit in and have our respective art spaces, she is finally able to move into her own place next weekend – I feel the world opening up again. I get the guest room back! And she gets her own phone and bathroom! Its a win-win situation.
Meanwhile, my hubby had a major make-over on his heart. We were lucky enough to discover an aneurism lurking and he was all fixed up in January. Now, heart surgery isn't as simple as I am making it sound but its good to know he won't be keeling over any time soon! And a great side effect of major heart surgery is all your children come home from far and wide to be here. I think its safe to say that I got a good dose of family time too!
So I've been on a creative jag that I am certain is directly related to the good things happening. And things are easily finished since I seem to be thinking small.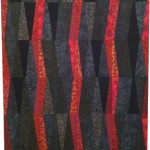 Here's a fun option for my Creative Grids 15 degree Ruler – Zigs and Zags. Pattern is available here and since its a Cut-Loose-Press pattern, its a very good price! Ask about these affordable patterns at your local quilt shop – there's a lot of them available!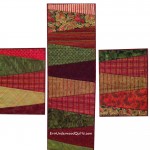 Here's another one – placemats and table topper. And a quilt-as-you-go! Its reversible too! Christmas colors are shown here but the back side is patriotic – should have taken another picture… Any way, its also a Cut-Loose-Press pattern – fast and easy with the 15-degree ruler. Click here for the pattern.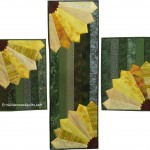 Now this one is my favorite – Sunny Days Table Topper. It is also a quilt-as-you-go and I used Soft and Stable for the batting. Love the way it turned out – still waiting for the pattern to debut with Cut-Loose-Press. I'll keep you posted!
More things are coming together in the studio – wish there were more hours in the day and I didn't need so much sleep!