Check out what my husband just finished building for me!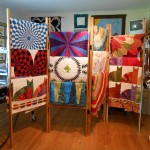 This is four ladders – width of 23″ or so – they are joined with detachable hinges so I can take them apart to move around easily or only use two or three at a time if four is just too big.
The wide set rungs really display the  quilts nicely. They don't have to be folded too small to fit – I am just tickled pink!  I think he's on to something and is considering building some more… Interested?