Mid-appalachian Quilters, that is. This is a great opportunity for all you quilters out there. It is an annual event Рevery July  Рat Mount St. Mary College in Emmittsburg, Maryland. Twenty-five teachers come and offer an array of workshops from machine and hand quilting,  machine piecing, fabric painting and dying, wool work, applique, wearable items, cool piecing techniques, new tools and gadgets to speed things along, as well as just doing your own thing in studio. This unique retreat is put together by a group of volunteers every year, is very well organized and I am honored to be heading out there for my fourth year of teaching this weekend.
First up on Friday is Chevron Garden. It used the Creative Grids 45-degree Diamond Dimensions Ruler and some 2-1/2″ strips!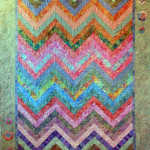 There's not a bit a fabric wasted as the applique in the borders is created using the ends of the strip sets.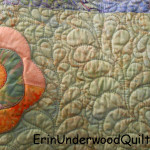 Machine Quilting is my bread-and-butter class and I am so excited to be bringing it to MAQ for Saturday's class. Lots of topics are addressed – basting a quilt, different types of batting, thread and needles, resources…. We start out with a simple meander stitch and finish the day with feathers!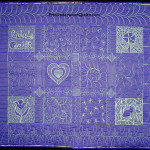 Sunday's class is the classic Cathedral Windows. All done by machine, this clever adaptation of the Cathedral Windows technique enables the quilter to hurry up and get ér done!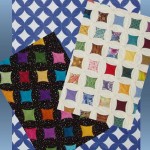 Hope to see you there – if not this year, then maybe the next!