Since I don't seem to be growing these things myself yet – I have appliqued a few just to keep the spirit of Spring in the house!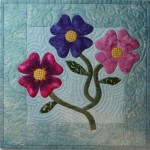 This is a new sample for my Hand Applique by Machine being offered at The Lil Country Shoppe in Middletown, Delaware. And by the way, this shop has got a whole lot (if not the whole line)Â  of Amy Butler Fabrics too!
P.S. This pattern is available on my website – will work for any method of applique and finishes 12″ square – perfect for a small decorative quilt hanger!