I was worried that we wouldn't have internet service back in time to upload the debut of the Goose Quilt Block of the Month. Luckily  Irene was relatively gentle with us. We only lost power for an hour in the middle of the night and a neighbor lost a tree that he didn't really like much any way. Cable and internet were not so lucky apparently as it took two days to get back online. Talk about a quiet house!
Our sunflowers took a beating, as expected, but I did manage to bring a few in before the storm. It does brighten up the house a bit, to say the least.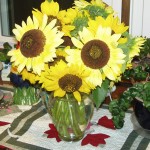 We also picked all the grapes off the vine in fear they would have been blown off and smacked up against the side of the house. No body needs a house with lots of purple spots on it! Needless to say, I am canning jam as I type this morning.
Attached you will find the fabric requirements and the first Goose block which I have generously renamed "Goose Puzzle". You may recognize it by another name but it suffices to say that this block is composed of Flying Geese units so we are claiming it as our own!  This block uses the easy piecing technique of drawing diagonal lines on the background squares, putting them on top of a rectangle of goose fabric, sewing on the line and folding them back to make the background for the geese.  Pay attention to the pressing instructions. It will help the block go together easier.
Goose 9 BOM fabric requirements
I noticed when I clicked on the link in my last blog entry, it did not take me to the expected quilt. I have corrected that but you can also click here if you need another look at the Goose Quilt.