I had the good fortune to be able to take Linda Hahn's New York Beauty Simplified class yesterday with the Flying Geese Quilt Guild. With Linda's informative yet relaxed teaching style, it was so SIMPLE! It is truly what it says it is – Simplified.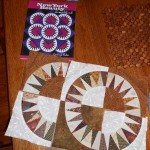 Here's the blocks I finished and have even started 6 more – I suspect that if I didn't get chatty in classes I would get a lot more completed!
Linda's  technique is so amazing and liberating. I've done a New York Beauty before and it just took FOREVER! One of the things that makes it  so appealing is the foundation paper she uses.  EQ Printable Foundation Paper It does not have to be ripped out! When you wash it, it turns to a thin layer of polyester in your quilt but truthfully, it is such a supple product that you really can't tell if its in there or not – so no need to wash your quilt (until it gets dirty!)
So, if you have always been intrigued by this block but thought it was just way too complicated – not so  any more. And if you get the chance, take a class with Linda or do the next best thing and get the book – or both! I am looking forward to New York Beauty Diversified coming out next year.