So I've been spending these last few weeks working on a second version of my Fantastic Circle for our bed. I highly recommend we spend time doing something for ourselves every now and then, by the way. Fantastic Circle works very well with Jelly Rolls and I purchased a great set from Hoppin Bobbin last month just for this project. The shop owner there, Kelly, cuts her own for the most part so these came totally out of her fabric inventory and my original plan was to make the Fantastic Fan in her fabrics so that when it came time to teach the class in her shop, it would help her too. Although I plan to do that, it will have to come off my bed to go there. And it will be a bit larger that the original pattern since it needed to be 102″. Its on the long arm now.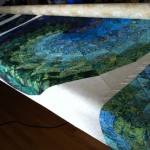 I'll post more pictures when its finished.
But I am digressing off the subject a little. The point is I bought jelly rolls and because I am making the quilt larger that the pattern suggests, I bought extra jelly rolls. Hence I have a lot of jelly rolls left over. Now, because this quilt is going on the bed and we have been gifted for "safe keeping" our son's Blue Tick Coon Hound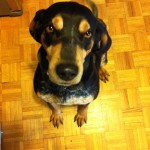 who insists on getting up on the bed, I keep an old quilt on top of the "real" bed quilt to keep his assorted dog debris off the bed. I've learned long ago with this very headstrong dog to pick my battles. The bed hopping was small compared to the others that I fight with him on a daily basis in my efforts transform him from "damn dog" to "good dog".
Okay – because of the "damn dog", in this case, I decided I did not want him sleeping all over this brand new quilt but I love the colors and didn't want to hide them under the ratty bed-protector quilt. So with all those extra jelly rolls, I thought about doing a Jelly Roll Race quilt. It should be just the right size to cover his favorite resting spot on the bed and I can still have the beautiful colors in the room.
Now, although I've seen a lot of Jelly Roll Race quilts, I really had no idea how to make it. So off to Google. I found this great tutorial by the Missouri Star Quilt Company! Lots of fun to watch. Its a liberating sewing experience and since this is for the damn dog, (well, technically its to protect the bed from the damn dog) it seemed like the perfect solution for me.
So let the Race begin!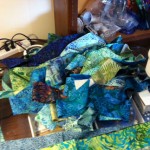 I don't think I'll ever win the race but at least I finished!