Got a guild meeting tonight and you know how December meetings go – a pot luck of some sort and lots of chatting – should be a nice quiet evening. Since we've got a few inches of snow lingering, attendance may be low. So glad the meeting wasn't canceled because of the weather though since I spent the morning working on my contribution to the Holiday Block Exchange.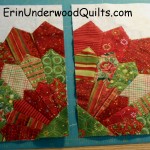 I've learned a few years back that if you really like the block you are making to exchange, you should make two. One to keep and one to trade.  This uses the Creative Grids 15-degree Triangle ruler to create the triple dresdens and it was a great use of all the scraps left over from the Triple Dresden Tree Skirts I have made.
Looks pretty cool – I may have to turn this into a pattern….hmmm….