These tuffets are sooo much fun! I suspect everyone in my family is going to get one for Christmas! What do you think about a little bargello effect?… the whole thing can be "bargelloed" or just use two fabrics for a graphic effect.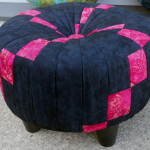 I think this one looks a little like a cupcake ;-)… It uses double dresdens topstitched onto the strips before they are sewn together to create the tuffet cover.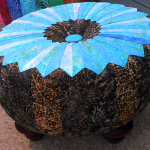 Got a few more options   – check out the pattern in my store to see more! Or maybe you are an "instant gratification" kind of person so here it is as a downloadable pdf pattern.