This is such a wonderful pattern! I finally get what all the buzz is about! I finished this easily in an afternoon. Fold and Stitch Wreath by Poorhouse Quilt Designs.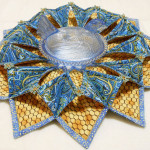 I have to admit I had to read the pattern through a few times only because I couldn't figure out what the applique fabric was (it's the yellow, silly me!). When that clicked, all was good!
And then there are the beads!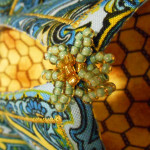 My daughter gave me a selection of beads from  Ocean Sky Bead Shop  (my favorite bead shop!) in Carlsbad, CA  for Christmas and they turned out to be just the right color for my flowers! And just enough too! I think I was left with about 15 blue beads after all 12 flowers were finished.
This lovely little table decoration will sit proudly in my quilt shop, Blue Hen Quilt Shop, scheduled to open this February in Newark, DE.  Our website is up!  (BlueHenQuiltShop.com) where you can order you very own Fold and Stitch Wreath pattern and much more! Keep up with all the Blue Hen Quilt Shop happenings on Facebook too.