Midnight Flight!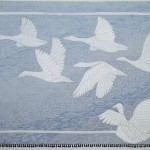 These fanciful geese are finished and heading out to a Fiber Arts Show.  Its the Summer Sampler Fiber Artisans Show at the Elkton Station Gallery, Cecil College; 107 Railroad Avenue, Elkton, Maryland.
I had a lot of fun with these feathered friends. The white areas of the quilt were created using shadow-trapunto. Each goose is made out of a white craft felt. Some have more than one layer to add dimension to the wings however I'm not really sure that layering made a difference. Then the geese were applied to a dark blue fabric and covered with a layer of sheer white Batiste fabric. The quilting was completed using a variety of decorative blue threads with occasionally using two threads at once in the needle to enhance color blending.
There is a beaded fringe across the bottom edge. I found those blue "feather" shaped beads while this quilt was still a WIMM (Work In My Mind), You just never know when you collect fabric and beads and such for a quilt if all those collected things will work in the finished product. It was a pleasant surprise to see that those very expensive beads would enhance the quilt and get to stay! If you like to see this quilt in more detail, click here.