You might says I worked on broadening my horizons yesterday – on several levels…
I started out the day by attended a BJ Titus class. She is an incredibly talented, award winning Art Quilter from Pennsylvania. It was such a treat to get up close and personal with her style.  She also  presented a lecture at the LadyBugs Quilt Guild in Newark DE on "Inspiration". She was very informative as well as entertaining and her hand-dyed fabrics were absolutely breathtaking! But I think she only sells them at workshops and lectures since they don't seem to be  on her website.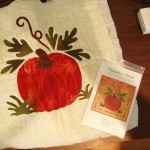 After class, since I was already in Wilmington, I trekked up the road to Chadds Ford, PA to check out a bead store. Too bad it was Monday since the quilt shop right next door was closed! However, I am pretty inspired by the beads I found at The BeadScope. Their website doesn't seem to be working but its well worth the drive to check out their incredible inventory of beads! I'm sure there's a quilt already growing around this selection I purchased. I wish I could have afforded some of the other beads that really spoke to me¬† – I'll get them some day…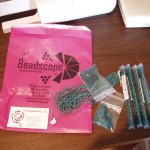 Now topping off my day of enlightenment, I stopped by Bed, Bath and Beyond and found a good folding stool for my husband to use while performing in the local bars Рhe's a most talented singer  but likes to sit for some of his songs РI don't know why, maybe it makes playing the guitar a  little easier. So not only did I score brownie points with him but got my stool back for my long-arm! I was really getting tired of having to fetch back from his music arena every time I wanted to quilt!
Then it was off to kill some more time at assorted stores Рyou would be surprised how many of us middle-aged ladies were shopping for underwear at Target yesterday!  But its what I found at Trader Joe's that I am really looking forward too РWasabi Mayonnaise Рits what's for lunch today!! I hope it is a good as it sounds!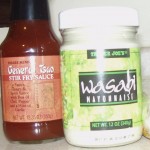 I'll let ya knowhow it turns out!