I was in Bear's Paw Quilt Shop this morning and was awestruck by their rendition of this free pattern by Moda. The trees are sewn into the seams and the pinwheels are also folded into the seams making everything 3-D. Cheryl, who created the Bear's Paw version, also added little beaded rosettes at the pinwheel centers for a little sparkle. (It also hides a myriad of piecing snafus!) – not that Cheryl had any but I'm just saying…
Any way, I located a site for the free patterns – its Hancock's of Paducah! Click HERE to get a copy for yourself. The picture really doesn't do it justice.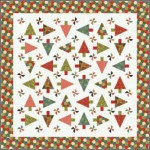 It suffices to say I really was inspired by this lovely quilt and plan to make one for myself. It would also be great quilt for an block exchange!