My husband installed a really cool track light above my long-arm last week!
I love the way it swirls across the ceiling.  As winter nears and the light from the picture window is not so good, he promises to install another one on the side of the room.
Meanwhile, I've finished another Diamond Star – note how it is casually displayed across the long-arm for this photo opportunity –¬† and since my handy-dandy hubby has also replaced a faulty switch on my long-arm, I think I'll spend the day quilting. However, not on the Diamond Star but on another How-Many-Ways-Can-a-Goose-Fly? quilt that has been hanging around for quite a while.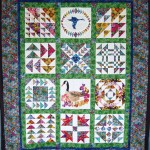 Gotta vacuum up all the dog  hair first. It also swirls around but not as nicely as the track lighting!