Pretty much this is all I've been looking at for the last few weeks!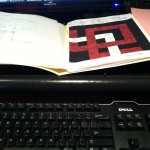 Lots of pattern writing going on and its a must-do over the Christmas holidays since its the only time my In-Design guru will be home from college to help me when things don't make any sense in this program! She has been a jewel Рgood thing she  knows her stuff although I think she's beginning to have her doubts about me!
But before I immersed myself in computer lingo this month, I did do a little bit of sewing for Christmas! Love this pattern! Easy Striped Table Runner designed by Karen Montgomery. I don't often buy patterns –¬† being somewhat of "I can figure that out" kind of quilter but this one was worth the investment! And it was as much fun or even more than doing a Stack-n-whack quilt! Each and every table runner was a beautiful surprise! I'll show you a few since I have already delivered these and they have been opened!
Each Christmas, I try to make gifts – saves money and seems more meaningful to me than going out and shopping til I drop and breaking the budget too! I only wish that one Christmas I would spend some time making some of these fun gifts just for myself!
I would stop and do that now but I've only got so much time with my In-design guru and every minute counts!
Meanwhile, here's hoping every one has a happy and healthy Holiday season – Blessing to all and Happy New Year!