A few weeks back while we were traveling on vacation, we picked up this little critter at a hotel. I suppose it could have been worse and we could have picked up a different sort of critter but we won't go there.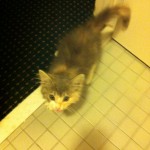 She traveled well so she spent the rest of the vacation with us.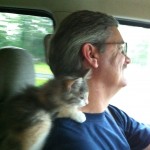 She is always wanting to help … in a su-purr-visory sort of way.
Never one to let any detail go unchecked, here she is offering her opinion on my latest quilting endeavor. Many of you recognize the view from the business end of a long-arm – and rest assured I did stop the machine as soon as this little critter told me to!
So I think she approves of this second rendition of Variation on a Classic Fan.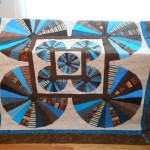 Perhaps all that fur she leaves behind is her stamp of approval… Can you see any here? Just to be safe,  I'll get out the lint roller when she's not looking.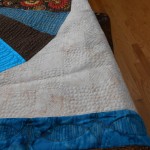 But wait, someone else wants to offer his ex-purr-t opinion!