Got a new ruler coming out with Creative Grids – so new its not even here yet! But when it finally comes, it will beĀ  a terrific asset to my quilting studio. Its a 45-degree ruler with a diamond on one end and straight edge on the other so not only can you cut strips but you can cut angles on your strips, strip-piece diamonds, diamond log cabins, large 8″finished diamonds or even mitered corner and borders. Chevrons will be a snap as well as a Texas Star and Lone Star. Well the list can go on and on….
Here's a few of my patterns debuting with the ruler – Diamond Star has been around for a while but now it will be new and improved and many variations to come!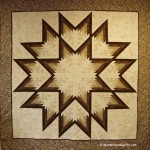 How 'bout a modern twist to that strip-pieced diamond normally reserved for the Texas Star. This ruler is so talented it can turn diamonds into rectangles for easy piecing ideas!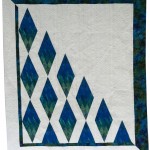 And a simple yet fun way to use jelly rolls – a Catty-Cornered Table Topper. It finishes using the "pillow-case" method – very fast and functional too!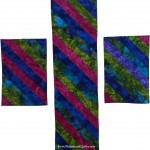 Wish I had a picture of the ruler too but good thing come to those who wait!