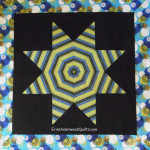 This is my Kaleidoscope Star pattern using striped fabrics. It has been hanging around forĀ  months, maybe even a year, waiting to be quilted so today it was! It uses the Creative Grids 45-degree Diamond Dimensions Ruler.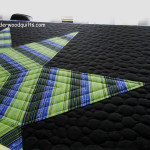 Straight lines in a sea of pebbles! Really more like river rocks though…the bigger they are the less time it takes to quilt fill the space. Glad this one is finished. But alas, it can't come off the frame yet as I tend to gang up quilts on one backing and there are still a few more to go on this one before its done.
Time to get stitchin' again!