Just finished binding on a couple of class samples Рstill have lots more quilts waiting for binding. I can't seem to keep up! I may have to  just sit and bind for days on end Рhope the TV and movie schedules will be entertaining enough to keep me on task! Binding is my least favorite thing about quilting Рto sit and do it all day today will be especially difficult since  I came up with all sort of new quilts in my head this morning while trekking around the neighborhood AND I've got a free software demo waiting on my computer for me to play with Рgonna finally get some of my original long-arm patterns drafted and sell-able after I master this program.  Not enough time in the day Рor week Рor month!
Yet another Tessellating Tree – (got another waiting on binding too!)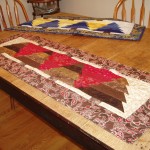 My fourth Machine Quilting 101 sampler – its a popular class! This one is heading back to Seminole Sampler tomorrow.