I had the good fortune to visit the Lebanon Quilt Guild in Pennsylvania for the third time this year and we made Quick and Cute Tuffets!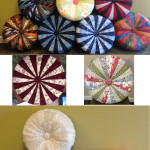 A couple of these were made from ties and the maker could tell you when and where the ties were worn – those two tuffets are going to be quite the family treasures. If you are using ties for your tuffets, it's important to open them up and stabilize them for the best results.
Another tuffet was made with upholstery fabric – who would have thought of that!! Although the fabric was a little thick in the center ( and I am putting it mildly here) it all came together with beautiful results!
And while I was there, one lady brought in her Optical Illusion quilt from the last workshop I did with the group. The borders she added were from the Chinese Fans pattern – lovely combination!