I have been remiss (what else is new…) this summer and not keeping up well with my blogging. I think of things all the time to share but somehow never quite get to the computer to post them. So, I've decided that in order to get back on a regular schedule, I will be posting another FREE Block of the Month. This one will be a version of one of my patterns that I will be retiring from my store. We will call it the Goose Quilt. Every block on it has something to do with Geese. In addition, there will different tricks to piece some of these geese.The quilt finishes 80″ x 80″.  You can also see it in my gallery.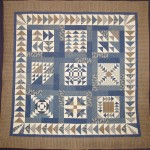 Traditional piecing, paper piecing and quick piecing techniques are just some of the techniques used to construct this quilt.
So starting in September and running for 10 months, I will post a new block on the first day of each month. The border and finishing instructions will be the final installment. All this will be happening through my blog so make sure to check in on a regular basis. But don't worry if you miss the postings. You will be able to find out what you missed by clicking on the Free Block of the Month heading under Catagories on the right side of the page, just under the archives. I hope you enjoy the process and don't forget to send pictures!