As I sit here in my slightly chilly house this morning, I think about all the things I have to do this week and all the things that are going to get in the way of doing those things.  I'm multi-tasking right now – updating my blog and printing patterns! Its not as easy as it sounds…
And I'm prepping for a class this morning – teaching Fusible Machine Applique with my Maryland on My Mind Pattern at My Favorite Quilt Shop here in Elkton.
Then there is the green and black quilt hanging over my shoulder that just keeps going on and on. Not to mention that I trimmed one of them wrong and have to remake at least a portion if not all of the block!!! Don't you just hate when that happens! I could have sworn I measured two or even three times but still messed up. I'm blaming it on the ruler slipping! However, it is my plan to have all the blocks ready to go by this evening or tomorrow evening – see how I give myself some slack… last week the deadline was Friday evening. I'm flexible.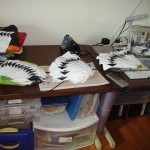 Note the organized and dust free workspace – I added "rearranging and cleaning my studio" to my list last week and was able to get it done on Sunday with the help of my handy and ever patient husband who can re-wire and re-hang on a moments notice! I'm still struggling with getting everything to fit into this space and provide enough storage and work space to be productive – or so I tell myself. It could just be all the rain making me sluggish and unproductive. I'd like to think that I am being VERY productive – its just taking longer than I thought!
After the Green and Black Geese are finished, there's pattern writing and quilting and more piecing of more tops! All of this is leading up to a big debut! But more about that later.
I really meant to just blog about another Art Quilt Show with the Fiber Artisans Group I belong to. We are displaying is a Physical Therapy Office for their grand opening next week. I've attached the announcement and am pleased to see my Serene Green Quilt is one of the highlighted quilts. Its open to the public so hopefully I'll see some of you local quilt lovers there!