So it is work to actually squeeze in time for what I want to do but I've managed to get a few things completed  Рthings I've wanted to do since last Christmas Рand by last Christmas, I mean 2010!  That year  I made everyone in our extended family Rope Bowls out of covered clothesline. I even made a few placemats and have been itching to make some for our household ever since. Although they look simple enough, they are quiet time consuming. And I think my method cuts some of the construction time off but its still takes TIME!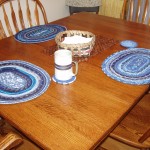 I use my zipper foot to cover the rope like cording then trim the seam allowance down to 1/16th" – 1/8″.¬† As I zigzag the cording together to make the mat or bowl, the seam allowance virtually disappears. I admit there is a difference between the two sides of the mat or bowl but it doesn't bother me.
So my plan was to use up all those tail ends of binding that I just can't seem to throw away but soon went through all the blues – this project uses a lot of fabric and even more thread! I have resorted to cutting strips to keep on moving with this project. 2″ is the width that works well for me. As you can see, I've got three placemats and two coasters that I think look absolutely fantastic with my teacup! I need at least 6 of both so I keep plugging along during my "free" time… Meanwhile, I continue to work on this!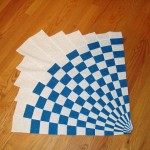 Its coming along nicely – an epiphany hit me at 4am! I've got all the math down – I'll keep ya posted!