My ruler has finally arrived! It is in production as we speak/type! Creative Grids 15-Degree Triangle designed by Erin Underwood! So cool to see my name in print on it!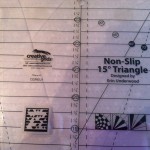 And I've got 12 patterns in my Fantastic Fan series ready to go! They all use the ruler, of course, but offer a wide variety of expected and unexpected ways to use a fan block. Slowly but surely, I will be getting them loaded in my gallery but here's a sneak peak at just a few!
Come to Hoppin' Bobbin in Aberdeen Maryland for an Free Trunk Show/Open House featuring all my new quilts on Tuesday evening, June 5th.